Why not join us at one of our monthly Shows at THE SHOE FACTORY, Union Street Bar, Belfast?
Usually the last Sunday of each month it is a fun filled few hours of laughter and great music.
We kick off each Show with a chosen theme. Some previous have been Mowtown, Iconic 80's and Disney.
Everyone is welcome.
SHOW TIME: 5.45PM - 8PM
ADMISSION: FREE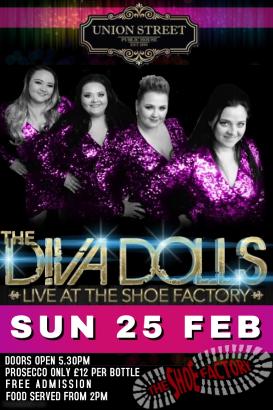 UPCOMING DATES AT THE SHOE FACTORY
SUNDAY 25 FEBRUARY 2018
SUNDAY 25 MARCH 2018

SUNDAY 29 APRIL 2018

SUNDAY 27 MAY 2018

SUNDAY 24 JUNE 2018
PUBLIC GIG LISTINGS (MARCH - JUNE 2018)
*Please note ONLY events that are open to the general public are listed here.
We do not publicise Wedding, Corporate or Private Events
MARCH
FRI 2 - The Goscars at The Kremlin, Belfast
SAT 3 - Lurgan & Brownlow RBL *Tickets

SUN 11 - Devenish Mothers' Day Show *Book Now
SUN 25 - The Shoe Factory at Union Street, Belfast
APRIL

SAT 14 - Show Park Avenue Hotel, Belfast *Book Now
SUN 22 - Meadowbank SC, Donaghadee 3-6PM
SUN 29 - The Shoe Factory at Union Street, Belfast
MAY
SAT 12 - Knock Golf Club, Belfast *Book Now
SUN 27 - The Shoe Factory at Union Street, Belfast
JUNE
SAT 9 - Balmoral Bowling Club, Belvoir *Tickets
SUN 24 - The Shoe Factory, Union St, Belfast
SUN 30 - Bangor RBL *Tickets Available at Venue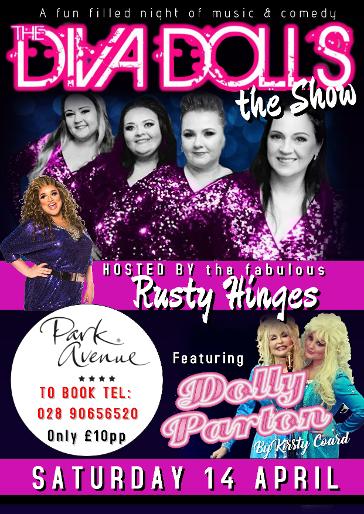 INFORMATION ON HOW TO BOOK FOR ANY OF THE BOOK NOW OR TICKET EVENTS

THE PARK AVENUE HOTEL -

Tel 028 90656520



158 Holywood Road, Belfast BT4
LURGAN & BROWNLOW RBL - Tel 028 38327821

THE DEVENISH COMPLEX - Tel 028 90301154
KNOCK GOLF CLUB - Tel 028 90483251
BALMORAL BOWLING CLUB - Tel 028 90640433
BANGOR RBL - Tel 07889452083